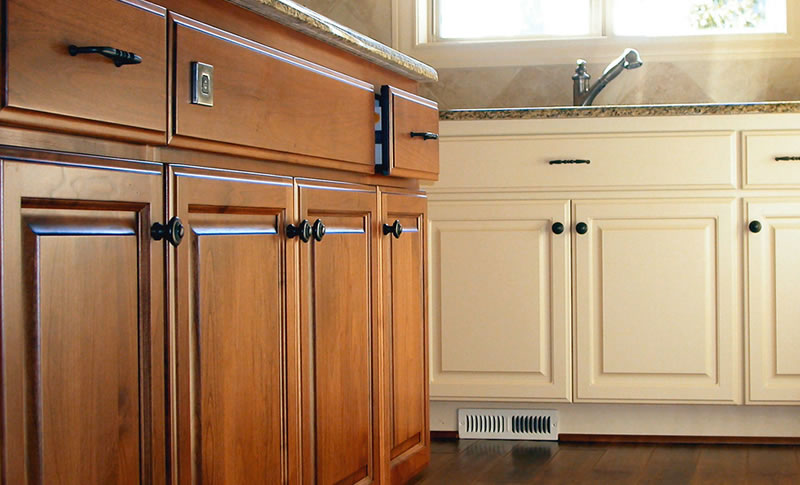 Cabinet Refinishing in Catoosa County, GA
We specialize in painting kitchen and bathroom cabinets
Kitchen cabinets can take a lot of abuse and after a few years (or many years) they can begin to show their wear.  They might be fading, have knicks, dents, and scratches, or even flaking and peeling paint.  Maybe your cabinets are just a really ugly color from the 70's or 80's and you want to change that?  If you are looking for an affordable way to upgrade the appearance of your outdated kitchen then refinishing your cabinets is a great way to get a brand new look.
Instead of spending huge money replacing the cabinets, we can just clean them up, sand them, and refinish them in a new color or stain and hard new hardware, voila!  You'll have beautiful looking, trendy kitchen cabinets again.
ProPainters is a full service painting contractor based out of Murray County in Northwest Georgia.  We specialize in sanding and repainting cabinets in your kitchen, bathroom, laundry room, or any room in your home with storage cabinets that could use a facelift.  With many years experience in the painting and refinishing industry you can trust us to give your space a brand new look for a fraction of the cost of replacing the cabinetry.  We can apply a new smooth finish to your cabinets that will resist chips, scratches, and stains and is easily maintained by simply wiping with a clean cloth.
Cabinet Refinishing Services We Offer
Kitchen cabinet refinishing
Bathroom cabinet refinishing
Wood cabinet staining
Kitchen cupboard refinishing
Refinishing Choices We Offer:
High gloss finishes
Semi-gloss finishes
Matte (no gloss) finishes
Modern white
Endless color choices
Endless stain tint choices
Our Cabinet Refinishing Service Includes:
A color consultation with an expert.
Removal/replacement of cabinet hardware (knobs, hinges, handles)
Scraping and sanding areas to be painted.
Repairing surface marks or scratches with wood filler.
Protection and covering for floors, moulding, windows, furniture, and any other surfaces not to be painted.
Application of caulking at seams where necessary for a nice, clean, finished job.
Should You Refinish Your Cabinets Or Replace Them?
Refinishing is a great way to improve the appearance of your space without the high cost of cabinet replacement.  ProPainters provides cabinet refinishing services throughout Northwest Georgia and we can give your old, outdated cabinets a brand-new look that will make your space much more modern and enjoyable to spend time in.  We can do this for a fraction of the cost of replacement.
If your cabinets are in very rough shape, broken, cracked, and falling apart then replacement might be an option.  But your cabinets would have to be in really bad shape.  Most of the time we can revitalize your cabinets with our refinishing process and you'll be just as happy as if they were brand new.
We use very specific paints for our cabinet refinishing projects that are smooth, durable, and easy for you to clean and maintain in the years to come.  We can refinish your cabinets into a modern and popular white tone or any other color or stain tint of your choice.  Refinishing your cabinets will modernize your home interior and add years to the life of your cabinetry.  We can even add new hardware such as handles, knobs, and hinges.  We can also repair any broken or bent hinges so your cabinets don't just look new, they actually feel new too!
Why Choose ProPainters To Refinish Your Cabinets?
When you choose ProPainters to refinish the cabinets in your home you're partnering with a team of professional painters with decades of combined painting experience.   We've refinished hundreds of cabinets and we stay on top of current color trends and styles so we can provide our customers with a clean, modern, look in their home.
We have a solid track record of happy and satisfied customers, many of them calling on us again and again for their painting needs and also referring us to their friends and family.  It's through the quality of our work that our business continues to grow.
Owner (Jonathan Trammell) is present on every project and takes great pride in the work that ProPainters completes in our customers homes.  We care about your cabinet refinishing project and we want to make sure we do the best job we possibly can.  We provide unbeatable value, we keep your home spotless, our pricing is fair, and the quality of our cabinet refinishing work is unmatched.
If you'd like to schedule an estimate to refinish the cabinets in your home then give us a call (706) 280-2532 or fill out our online contact form and we'll get right back you.