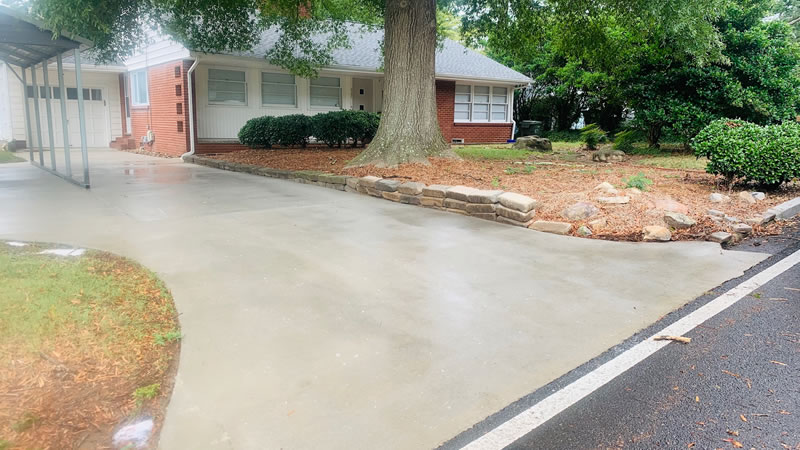 Pressure Washing in Catoosa County, GA
If you are thinking about having the exterior of your home or business power washed or maybe adding some instant curb appeal by cleaning and sealing your concrete driveway, sidewalks or wood decks than you have come to the right place.
ProPainters is a top-rated painting & power washing contractor based out of Murray County, Georgia and serving Northwest Georgia.   We specialize in power washing exterior surfaces including all types of siding, cement, metal, wood, and more.  We can clean building exteriors, hardscaping, and anything else you want clean that won't be damaged by the pressure.
Power Washing Services We Offer:
Power washing driveways
Power washing sidewalks
Power washing vinyl siding
Power washing metal siding
Soft wash house washing
Building exterior washing
Why is Power Washing My Home or Business Necessary ?
Constantly exposed to mother natures harsh elements the exterior of your home is always vulnerable and under attack. Mold and mildew spores, algae, pollen and other pollutants blow through the air and attach to the siding and other surfaces of your home or business.
Over time dirt and grime build up, the mold, mildew and algae start to fester and grow. Usually on the north side and the fascia and soffits or areas that stay dewey or wetter longer and see little or no sunshine. Patios, sidewalks, driveways and decks literally become slippery when wet and can be dangerous and even destructive on the building materials underneath.
Quickly this starts to degrade not only the appearance but the integrity and value of one of your biggest investments. Left unchecked mold and mildew can grow deep into your paint and siding and eventually can start to creep inside your home. And that's were the real trouble begins.
The good news is having your house or business power washed by a professional as periodic maintenence is economical, safe and efficient .  Soft low pressure washing and pressure washing both have advantages and differences, while pressure washing is normally reserved for tougher tasks where high pressure is required such as concrete driveways and sidewalks and in certain instances like paint prep and decks, soft washing is always the safest and best bet for cleaning your homes siding or roofing materials. Hiring an experienced contractor proficient in utilizing both systems will ensure superior results.
If you'd like to schedule an estimate for your power washing project then give us a call (706) 280-2532 or fill out our online contact form and we'll get right back you.