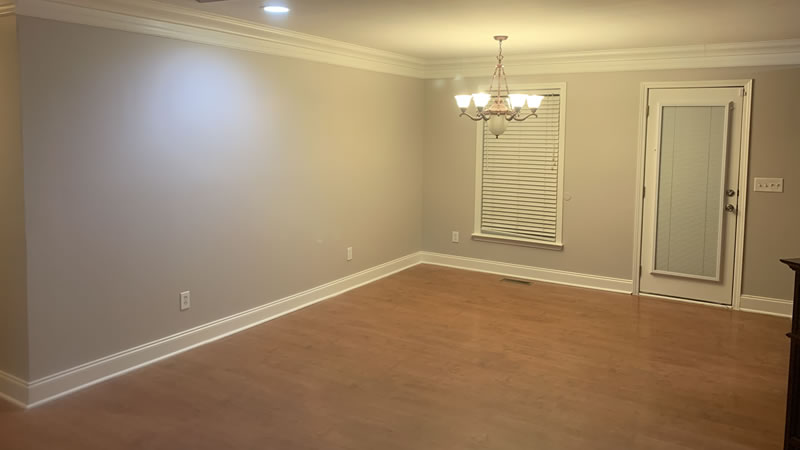 Choosing A Great Home Interior Color Scheme For 2020 & 2021
Whether you are redecorating your current home or starting from scratch with a brand new one, a great place to start is with a color scheme. While that sounds simple enough, it can be a really daunting task for a lot of homeowners. But, believe us when we say it's worth it; choosing a color scheme will set you on a path and keep you from wandering away from your vision.
We've put together some tips and ideas to guide you through the process and help you create an interior color scheme that best suits your style, personality, and life.
WHERE TO BEGIN
Start by doing a little reconnaissance. Flip through some magazines, scout out some showhomes, get pinning on Pinterest. Find inspiration in what's out there and what people around you are doing.
Take stock of what you already have as far as decor and design elements. What do you like? What do you regret buying? What are you keeping? This applies to everything from furniture and artwork to flooring and lighting.
The lighting in your space can influence the direction you choose. Look at the lighting in your space, both natural and artificial, at various times throughout the day. A room with less light will feel brighter if you use lighter, cooler shades because they have more reflective properties. A room with lots of light can better handle deeper, richer tones.
Find inspiration in a pattern you like, such as artwork, wallpaper, or fabric.
Stay within the same tonal family to create a cohesive look. The three categories of tonal families are warm, neutral, and cool; each category contains a version of every color. This trick will make it much easier to pick colors that work well together.
Create a mood board of all the materials and colors you plan on using to see how they work together. Then bring in larger samples to evaluate how they work in your space — paint patches on walls, layout flooring samples, set out fabric swatches. Take your time. Rushing to make a decision can result in regret when everything is said and done.
There are many types of color schemes and many ways to determine them, but don't let that overwhelm you. We've compiled our top tricks to color theory for every level of design enthusiast — no matter how beginner you are!
POPULAR TYPES OF COLOUR SCHEMES
MONOCHROMATIC
A monochromatic color scheme layers tone on tone of the same color throughout a space. When done with intention, a monochromatic color palette can make a bold and eye-catching statement. It can be dramatic or subtle.
To create a more pronounced and obvious monochromatic aesthetic, use your color in different hues throughout the entire space. If you want more of an obvious and dramatic feel, opt for darker colours. If that feels too daunting but you still want to go big with the monochromatic look, use light and airy colors (this trick works especially well with popular minimalistic design trends).
For a more refined take, sprinkle the color throughout the space using accent pieces. Keeping accessories as close in color as possible will give a more uniform feel. A low-key monochromatic look will tie the room together and make the decor feel purposeful.
The secret to a monochromatic palette is texture. Different textures and finishes will help to keep the look from feeling flat.
WARM
A warm color scheme pulls from the reds, yellows, oranges, and yellow/greens side of the color wheel. These colors make a person feel warmer by increasing adrenaline and breathing rates and raising blood pressure and body temperature. The more pronounced the color, the more profound the feelings of warmth.
Warm colors make a room feel like home so it's no surprise that homeowners are drawn to them. But warmer hues can also be very intimidating when you are trying to achieve an aesthetic that is both comfortable and sophisticated.
An easy way to inject warmth into your color palette is to turn it into a centerpiece, such as a comfy, plush sofa, and add elements in the same color to keep it from feeling too random or out of place.
While a statement piece is a great way to dip your toe into a warmer color scheme, most people find it's not enough to truly create the sense of warmth they're after. Creating layers using similar colors will establish a unified and cohesive aesthetic. How do you do that? Look for different pieces, such as rugs, pillows, throws, curtains, and artwork, that repeat the same, or similar, colors to create a visual bond between them. Don't shy away from mixing patterns, either, just look for a common color to tie them together. Use metals to reinforce the warm tones in the room — think along the lines of copper, brass, and gold.
COOL
The other side of the color wheel will create a cooler color pallette. Greens, purples, and blues are known to create a more relaxed environment. They bring about feelings of calmness and serenity. The more intense the color, the stronger the effect tends to be.
With minimalist and modern design philosophies trending in interior home design, it's obvious why homeowners are turning to the more subdued end of the color spectrum. Sleek lines, hard edges, and sharp angles pair well with the soothing contrast of a cool color pallette.
If you aren't sure which room to start with, choose a room where you go to relax, for example, your bedroom and/or your bathroom. To avoid your room feeling too big, cold, or uninviting, use cooler colors in rooms with lots of warm, natural light. If you don't have that option and still want to use a cool color palette, try injecting one or two warm colors for balance. To find the right warm color to use, look at the color opposite your cool color on the color wheel.
NEUTRAL
People often think of plain or boring when they hear the term neutral, but a neutral color scheme can exude personality without the use of strong, bold color.
The key to putting together a neutral color palette is to focus on the combination of colors as opposed to each color individually. Neutral, in terms of interior design, suggests colorless.  Popular choices include beige, taupe, ivory, white, black, and gray. As you may be aware, however, not all neutrals are created equally. Each hue comes with its own distinct undertone so a good rule of thumb is to match the underlying tones when choosing your neutrals.
Often times, homeowners make the mistake of assuming that neutral colors are only light. But, dark neutrals such as brown, black, gray, and even navy, are considered neutral. If you are using dark neutrals in your palette, it's a good idea to choose those colors first and then add lighter neutrals with the same undertones (warm with warm and cool with cool). Dark neutrals will anchor a room and are perfect for accent walls, picture frames, furnishings, area rugs, and window treatments.
A neutral palette provides an excellent backdrop for expressing your personality with color. Choose up to three accent colors to build from and add pops of color throughout your room. Using smaller accent pieces makes it fun to experiment and easier to change things up when you want something different.
ANALOGOUS
An analogous color scheme is one of the easier schemes to pull together. Comprised of three or more colors that sit next to each other on the color wheel, it creates a harmonious palette that is always going to look great. Different colors will cultivate different looks; it can be as dramatic or as soothing as you'd like.
Analogous color schemes are commonly seen in nature. Think plants, flowers, fall leaves, sunsets, and sunrises. The best way to pull off this look is to choose one color to focus on, then bring in the other colors as accents. A no-fail rule of thumb is to start with a primary color, such as red, and then layer in the secondary and tertiary colors: pink, orange, and purple.
A great beginner tip is to use three colors and follow the 10-30-60 rule. The main color is used the most, the second color is a more supporting role, and the third color pops up occasionally.
To keep things interesting and the colors distinct, use pattern and texture throughout the space.
TODAY'S TRENDING COLORS
BLUE
Blue is big this year. We will see hues ranging from light ocean tones to deep, moody tones like navy. The Pantone Color Institute has chosen classic blue as their colour of the year. Described as the colour of the sky at dusk, it will influence design trends throughout the year.
BEIGE
Overthrowing the cool greys that have been dominating for the past few years, a more natural-looking beige along the lines of champagne is bringing a warm, earthy feel to interior design.
YELLOW
Yellow instantly brightens up a room. To avoid going overboard, designers typically use it sparingly (accents pieces and accent walls), but some brave homeowners are using it in their all-over monochromatic schemes. Why, you ask? The loud, bright, and cheery yellow of last year is slowly giving way to a more subdued, golden yellow.
PINK
Light pink can be used in so many different rooms in 2020. A light and airy hue, it can be a refreshing alternative to white or beige while still reading as a neutral. The new pink has undertones of apricot and peach for a more polished feel than popular pinks of the past. It's moved beyond nurseries, kid's rooms, and Millenial propensities.
RED
Dark, rich reds bring an air of sophistication and warmth to rooms. Taking on a more spicy palette with colors like clay, teracotta, sienna, burnt orange, and a reddish-brown burgundy, the new reds are more mature than the softer version we've seen previously.
BLACK & WHITE
Black and white will pop up in all colour schemes to some extent. Their stark contrast (coming from being extreme opposites on the color spectrum) makes it easy to incorporate into you home decor. Together, they provide visual anchors and are an easy way to introduce different patterns into your space. Fanatics of this combination will design entire rooms in black and white, but it doesn't have to be dramatic. Simple touches such as pillows, vases, picture frames, and hardware can be used separately or in unison. Bigger statements like black and white marble, black furniture with white accents, or area rugs are perfect middle of the road additions that can punch things up without going all in.
BROWN
The browns we are seeing today are statement-making browns and are especially dominating wood furniture and flooring choices. Dark brown, chocolate brown, cinnamon, and caramel will work to enhance other popular color choices and round out a modern color palette.
GREEN
Popular in 2019, green will continue to hold court in popular color trends for 2020. Following the trend of bringing in nature, we will see different shades like olive green and sage green, while lime and mint green will keep along the lines of those popular millennial pink vibes.
Why Choose ProPainters To Paint Your Home Interior?
When you choose ProPainters to paint your home interior you're partnering with a small team of professional painters with decades of combined painting experience.  We have a solid track record of happy and satisfied customers, many of them calling on us again and again for their painting needs and also referring us to their friends and family.  It's through the quality of our work that our business continues to grow.
Our owner (Jonathan Trammell) is present on every project and takes great pride in the work that ProPainters completes in our customers homes.  We care about your painting project and we want to make sure we do the best job we possibly can.  We provide unbeatable value, we keep your home spotless, our pricing is fair, and the quality of our finished interior painting work is unmatched.  You'll be thrilled with the new look we'll give your home interior!
If you'd like to schedule an estimate to paint your home interior then give us a call (706) 280-2532 or fill out our online contact form and we'll get right back you.